Mabry Mill Restaurant Blue Ridge Parkway, Meadows of Dan, VA
---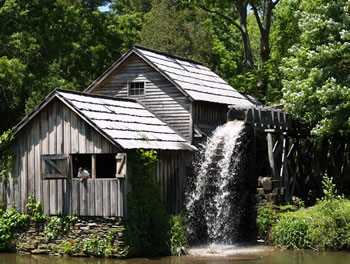 Open breakfast, lunch, dinner famous for our buckwheat pancakes! Handmade gifts, regional crafts. Near historic Mabry Mills, built in 1910, one of the Parkway's most visited sights. Open May-Oct. Grain is ground during occasional demonstrations, and stone-ground flour from a nearby restaurant and gift shop, is also sold. Drop in on the living history demonstrations offered in summer and early fall at the nearby blacksmith shop and Matthews Cabin. On early fall weekends, demonstrators make apple butter the old fashioned way – in a fire-heated kettle that gives a wonderful aroma. Old-time and bluegrass music fills the air on Sunday afternoons in summer and fall. Bring a lawn chair and, if the spirit moves you, join in flat-footing on the informally arranged dance boards. If you work up an appetite, the adjacent restaurant offers a good selection, and its buckwheat pancakes and country ham are legendary.
Mabry Mill Located at Mile Post 176 on the Blue Ridge Parkway
Mabry Mill Restaurant & Gift Shop - MP 176 - Odds are you've seen it before, even if you have never been here. This nearly century old gristmill, with its reflecting pond, graces the pages of countless calendars and postcards. It is arguably the most picturesque spot of the entire Blue Ridge Parkway.
Ed and Lizzy Mabry built this mill and ground corn for their neighbors for roughly 30 years, ending in the mid-1930s. Today, a short paved path leads to the mill and adjoining exhibits that highlight sorghum making, moonshining and other colorful – thought hardly inclusive – aspects of rural life in the Blue Ridge of the early 20th century. Parking is available at the nearby restaurant and gift shop, with alternate parking off the unpaved country road that circles behind the site.
Nearby Mabry Mill - Blue Ridge Parkway
A network of trails through 3,500 acre Rock Castle Gorge, just a few miles north, offers access to some of the most botanically diverse areas of the Parkway. Rock Castle Creek offers some of the best brook trout fishing along the entire Parkway. The gorge is open year-round and, barring snow and ice, easily reached from Virginia Route 8 east of Floyd. Trails are accessible from several points, including the seldom crowded Rocky Knob campground, which is located at Milepost 167 and open May-October. For maps and publications, visit the small visitor center at mile 169. Ask about the summer mountain music series at the Blue Ridge Music Center, mile 213 near Galax. Farming is still a way of life for many residents of southwest Virginia and driving the back roads in this area yields views as fundamentally American as a Norman Rockwell or Winslow Homer painting. Stop at the information center at Meadows of Dan, just south of Mabry Mill, on US Highway 58 to learn more about these scenic byways.
Map of Mabry Mill Restaurant Meadows of Dan Virginia Blue Ridge Parkway MP 176.1